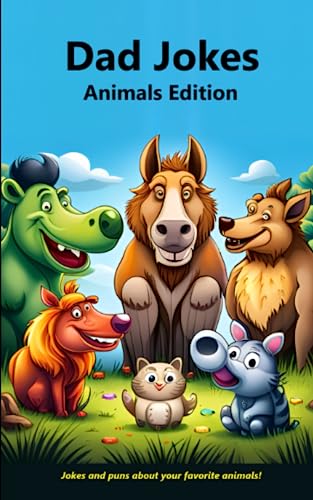 Published: June 27th, 2023
Author: Bradley L. Jones
Part of being a dad (or mom, uncle, aunt, etc.) is being able to get kids to smile. This is possible if you are armed with the right "Dad Joke". This book provides you with the jokes and puns you need to elicit laughs from kids of all ages!
Everybody loves a good dad joke or pun. Impress the kids with jokes and puns about their favorite animals. Elephants, cats, dogs, fish, hippos, zebras, and so many other animals are perfect topics for something punny, and this book delivers! The book contains hundreds of jokes and puns for you to read and share!
Why is this a favorite book for zebras? Because it is in black and white!
This is the purrfect book for cat lovers. Dog lovers will be howling with laughter. Pig fans will be squealing with delight. Squirrel groupies will go nuts for the humor!
Order a copy now: Amazon (print)